ALVICan innovative company specializing in the manufacture and distribution of components for the furniture and decoration industry, has been present at the fair KBB de Birmingham. The event, which is held every two years in the United Kingdom, is the most important event for professionals in the kitchen, bathroom and bedroom sector for the British market and brings together more than 400 exhibitors from twenty countries.
ALVIC has once again opted for innovation and design by creating a unique stand in which its new selection of designs for 2022, made up of three new collections, have taken center stage: Croma, Cross Metal, Pigments, inspired by the beauty of nature and in its different shades. Nineteen new designs combined with finishes in High brightness -Luxe-, mate -Zenit- or textured -Syncron- with which it transfers the latest trends to the market and expands its extensive range with new innovative proposals.
ALVIC, present at the KBB fair in Birmingham.
On the one hand, ALVIC has announced Chroma, a new range born inspired by the impact of the sun's rays on nature and the landscape. The collection is made up of five designs: Blue, Sunset, Peach, Crop y Oatwhich will be available in the technologies Luxe (high gloss lacquered panel) and Zenit (super matt lacquered panel).
ALVIC also showed its new Pigments Collection, which runs through the origin of color and reveals the trend monocolors: sophisticated, powdery tones that create calm, natural atmospheres with personality. From the natural and earthy red of Almagra, to the subtle and elegant tone of Sand, without losing the vaporous tone of Tortora, the energetic Ginger and the soft gold of Camel.
The Pigments Collection Developed with ZENIT technology, it offers an extraordinary matte finish, anti-fingerprint and a silky touch reminiscent of the softness and lightness of pigments, but with all the quality, high resistance and durability of ALVIC surfaces.
Along the path of space, the Cross Metal Collection highlighted the metallic effect of Light Gold, Champagne, Copper and Titanium. These new designs, available at Syncron, look for unique sensations to the touch and sight, providing an avant-garde touch to any space or decorative furniture.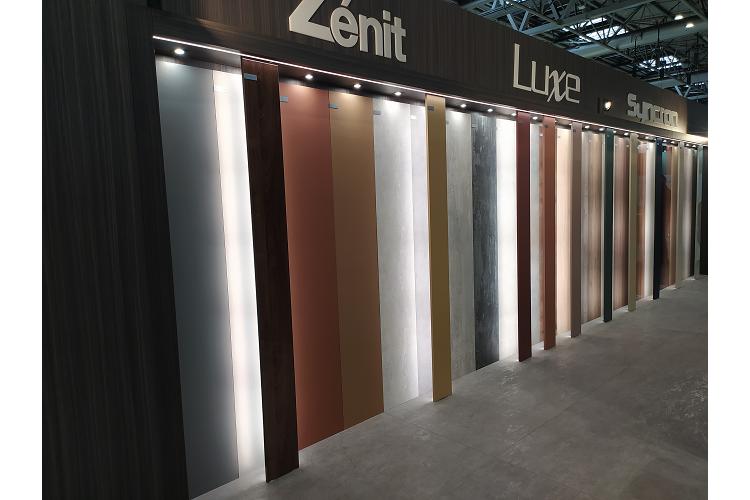 ALVIC, present at the KBB fair in Birmingham.
The new collections are available in 2022 in panels, finished pieces, doors and kitchen furniture, to make any decoration project possible.
During the fair, ALVIC has also unveiled its extensive variety of designs and new finishes in Luxe, Zenit and Syncron. The company makes a very positive assessment of its participation, after having received a large number of visitors. ALVIC shows its gratitude to the attendees for the good reception received during the KBB Birmingham.
MAIN PHOTO.: ALVIC, present at the KBB fair in Birmingham.