1 hour
"QAnon Shaman", "Baked Alaska", Nick Ochs, Richard Barnett, Ashli ​​Babbitt … are some of the hundreds of Trump supporters who participated in Wednesday's assault on the Washington Capitol, as legislators led to carried out the certification of Joe Biden's victory in the November elections.
Among the assailants were members of different groups and organizations associated with the extreme right, conspiracy theories and nationalist movements, as well as individuals who deny the Democratic victory in the presidential elections.
The FBI published on Thursday several images of the people who are being wanted for the assault and has asked for citizen collaboration in identifying the assailants.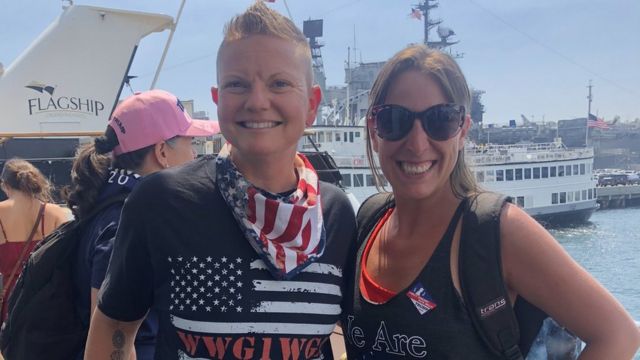 One of the protesters received a Shooting on the neck by the police when she was inside the headquarters of Congress and died while being transferred to a hospital.
The woman was identified as Ashli Babbitt, an Air Force veteran and ardent Trump supporter who had traveled from California to participate in the protest.
In a message posted on her Twitter account on January 5, a day before the assault, the 35-year-old ex-military wrote: "Nothing will stop us… they can try and try and try, but the storm is here and it's descending on DC in less than 24 hours … from darkness to light. "
And in a video broadcast on social networks, whose recording date is unknown, Babbitt is seen driving a car, while shouting against the Democrats: "You refuse to choose America over your stupid political party," criticizing them for their immigration proposals. . "I'm tired of this".
Speaking to the Washington Post, the veteran's ex-husband, Timothy McEntee. He said the Air Force sent it to Afghanistan and Iraq, before participating in other operations with the National Guard in Kuwait and Qatar.
In the days before his death, Babbitt had used social networks to express his support for conspiracy theories and allegations that there was electoral fraud, despite the fact that no evidence has been found to justify that claim.
In early September, the ex-military tweeted a picture of a parade of Trump supporters' boats in San Diego wearing a T-shirt that read: "We are Q", referring to QAnon, a far-right conspiracy theory.
In addition to the ex-military, three other people died during the assault on the Capitol.
They were identified as Benjamin Phillips, 50, Kevin Greeson, 55, and Rosanne Boyland, 34, who lost their lives after suffering "medical emergencies"said Washington DC Police Chief Robert Contee, without elaborating.
The three traveled from Pennsylvania, Alabama and Georgia respectively.
What about other protesters who stormed the Capitol in support of Donald Trump?
QAnon among the protesters
One of the most surprising images of the assault showed a man dressed in a fur hat and horns and his face painted in the colors of the American flag.
He has been identified as Jake Angeli, a known supporter of the QAnon conspiracy theory. He calls himself the QAnon Shaman.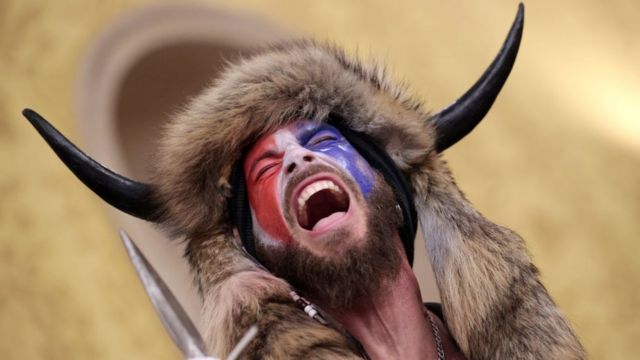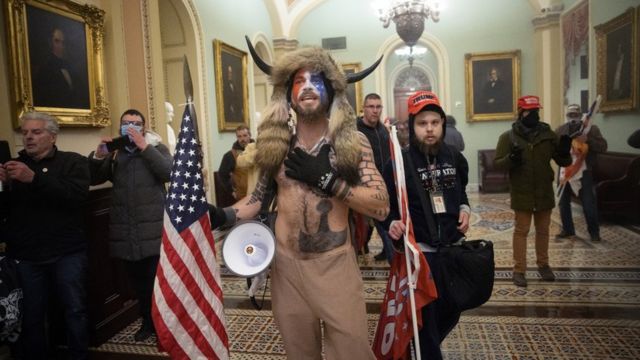 His presence on social media shows him attending multiple events of QAnon, a conspiracy theory according to which President Donald Trump's main adversary is a "deep state" secretly controlled by an elite who practice pedophilia and Satanism.
Angeli was photographed in November giving a speech in Phoenix, Arizona, supporting Trump's claims of voter fraud, which have not been proven.
His personal Facebook page is full of images and memes related to all kinds of extreme ideas and conspiracy theories.
The Proud Boys
Another group seen in the assault on the Capitol is made up of members of the far-right collective Proud Boys, an organization, founded in 2016, anti-immigrant and totally masculine.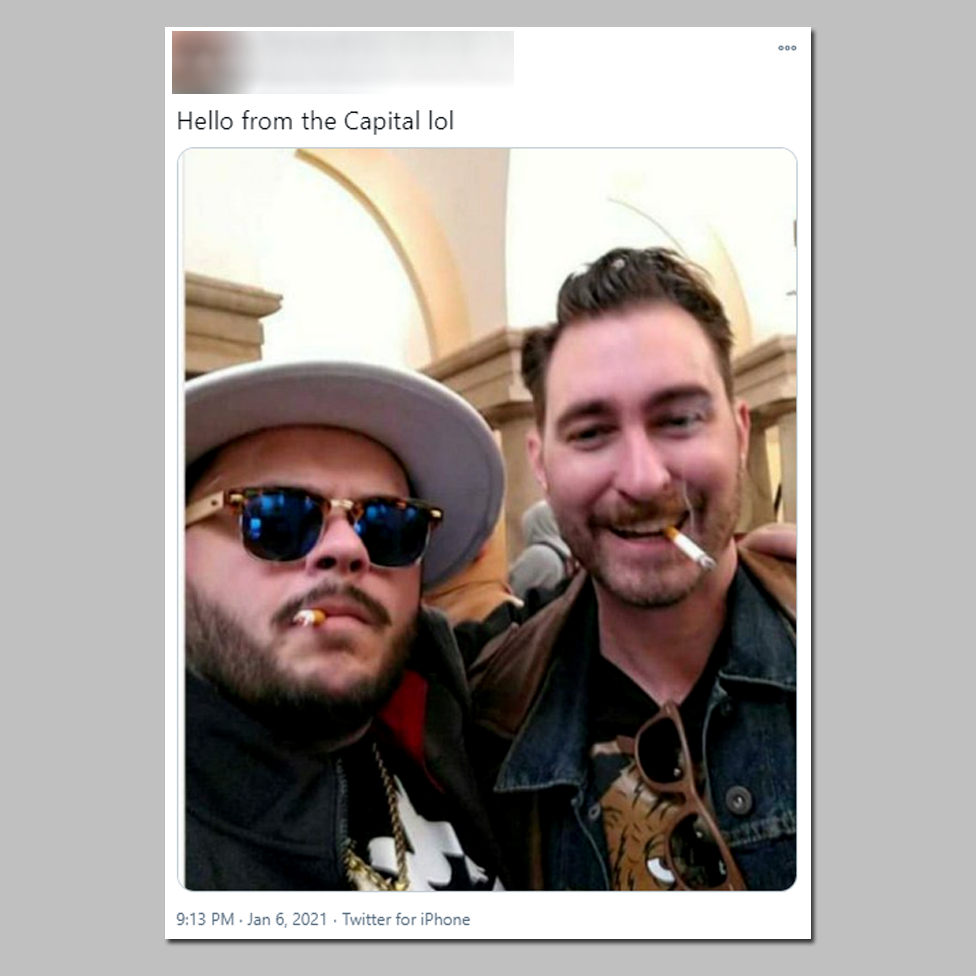 One of its members, Nick Ochs, tweeted a selfie inside the Capitol saying: "Hello from the capital, hahaha." He also filmed a live broadcast from inside the Congress. (The person on the left in the image has not been identified.)
In Ochs's profile on the Telegram messaging app, he describes himself as a "Proud Old Man of Hawaii."
"Influencers"
Individuals with a large number of followers on social media were also part of the raid on the Congress headquarters.
Among them, Tim Gionet, an active "influencer" who calls himself "Baked Alaska".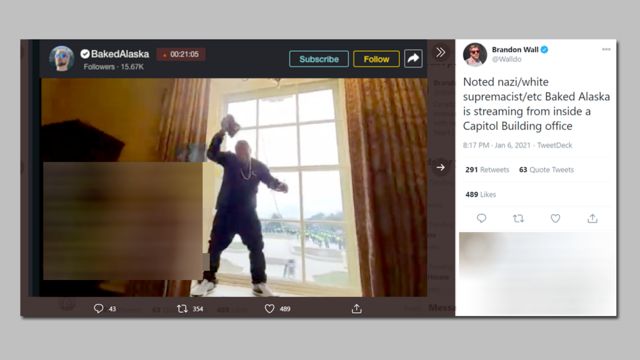 His live broadcast from inside the Capitol was seen by thousands of people.
A Trump supporter, Gionet has made a name for himself as an Internet "troll."
He has been described by the Southern Poverty Law Center, a US nonprofit legal advocacy group, as a "white nationalist," a label the protester questioned in an interview.
YouTube banned his channel in October after he posted videos of him harassing store workers and refusing to wear a mask amid the coronavirus pandemic.
Other platforms that have previously closed their accounts include Twitter and PayPal.
Who left a message for Nancy Pelosi?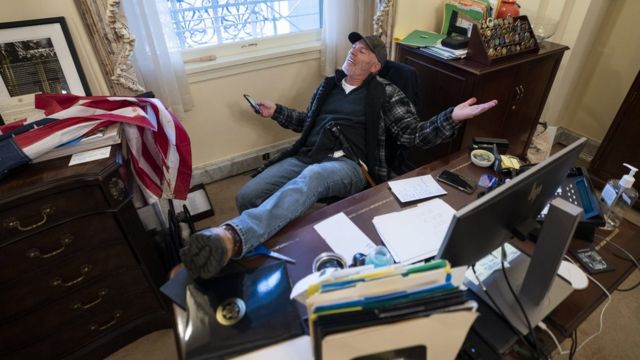 The man who appears in a photo that went viral, where he is seen sitting in the office of the Speaker of the House of Representatives, Democrat Nancy Pelosi, was identified as Richard Barnett, de Arkansas.
As he left the Capitol, he told The New York Times that he took an envelope that was in Pelosi's office and left her a rude message.
The US press reported that Barnett participates in a group that supports the use of weapons and that he was interviewed at a demonstration by "Stop the Steal", a movement that rejects Joe Biden's electoral victory.
On that occasion he said: "If you don't like it, send someone to find me because I'm not going to fall easily. "
(BBC News Mundo is not responsible for the content of external sites).

Now you can receive notifications from BBC News Mundo. Download our app and activate them so you don't miss our best content.