Popular actress Ksenia Mishina shared a stylish shot from a "love" photo session with Alexander Ellert
After the finale of "The Bachelor", Ksenia tries to avoid questions about her personal life, so as not to react to criticism from fans about her choice of the chosen one, with whom she is already making plans for a joint future. This time, Mishina shared on Instagram a new photo from their sensual photo shoot, but the star posed alone in the frame.
The artist decided to tell that it was time to return a little to a cozy space, and her fans had a rest, ate New Year's bestsellers and were ready to start a new Insta-year.
"The past year has been enchanting. I believe that my friendship and love for Instagram were just born. Who saw my first funny videos with me since the summer, timed to various events, advertising, spontaneous or pre-cut. Many of you write that you love my content and are waiting for it! I am pleased 🙏
And I am happy, because this is my work and a very important part of me. I love all stages of content creation. It's always like a little movie. I see how great the experience that I get on the set is revealed. I enjoy it and I am glad that I can work and do what I love and what I can do! So it's not the time to be shy, it's time to manifest! 😝💋 ", Ksenia wrote on Instagram.
The fans responded immediately:
"It's very interesting how the son and Sasha get along? How has your life changed after the project and behind the scenes💛; Write about you and Sasha and shoot more💚; About you and Sasha 💕we love you ❤️; It would be interesting to read about your top 5 funny / awkward situations on the set😅; Beautiful 💞😍; The model is simple; Irresistible😍😍😍Like Bulgakovskaya Margarita 🔥 ".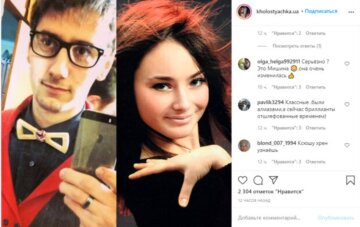 Note that after a rather unexpected ending, the couple in love decided to move in and are even preparing for a luxurious wedding. According to the star couple, they rented a separate apartment together. The couple has been happily living together for three months and does not worry about household issues.
Fans, meanwhile, are posting various photos of celebrities on fan accounts and showing the best shots from the project. They also managed to find rare archive photos of stars, not only before meeting each other, but also in their youth.
Let's remind, the wound up "Bachelor" Mishina pounced on Ellert, merging in a passionate kiss
.