Original Title: Global Epidemic Dynamics "August 18th": Shanghai Songjiang District was adjusted to a medium-risk area, and the medical system in Alabama, USA, almost collapsed
Global Epidemic Situation "August 18th": Shanghai Songjiang District was adjusted to a medium-risk area, and the medical system in Alabama, USA, almost collapsed
From the Financial Associated Press (Shanghai Editor Xia Junxiong),Statistics released by Johns Hopkins University in the United States show that as of 23:59 on August 18, Beijing time, the number of confirmed cases of new coronary pneumonia worldwide rose to 208,833,116, of which 4,386,814 deaths.
(Overview of the global epidemic, source: Johns Hopkins University)
Affected by the spread of the delta strain, the U.S. epidemic has rebounded significantly. New cases have continued to exceed 100,000. A total of 37,033,445 confirmed cases of new coronary pneumonia have been reported, and 623,418 patients have died.
In terms of the European epidemic, the British epidemic is more severe. As of press time, a total of 6,352,289 cases have been confirmed in the United Kingdom, 6,581,417 in France, 4,449,606 in Italy, 4,733,602 in Spain, and 3,840,810 in Germany.
Among the major emerging market countries, India's single-day new cases have stabilized, with a total of 32,285,857 confirmed cases. In other countries, Brazil (20,416,183 cases) and Russia (6,572,246 cases) have more severe epidemics. America's Colombia (4,874,169 cases), Argentina (5,096,443 cases), and Indonesia (3,908,247 cases) are among the top confirmed cases.
The following is the daily trend of newly confirmed cases in relevant countries: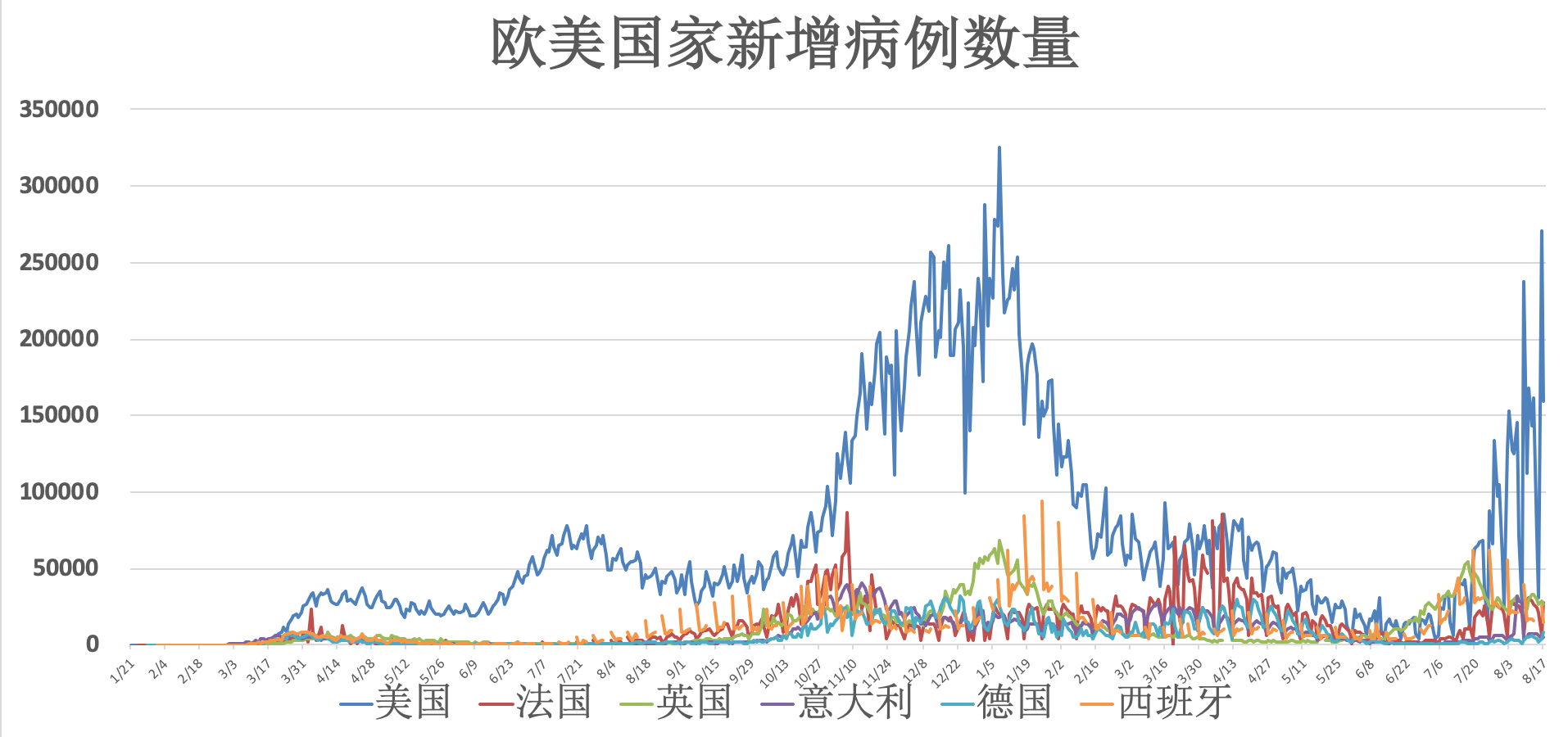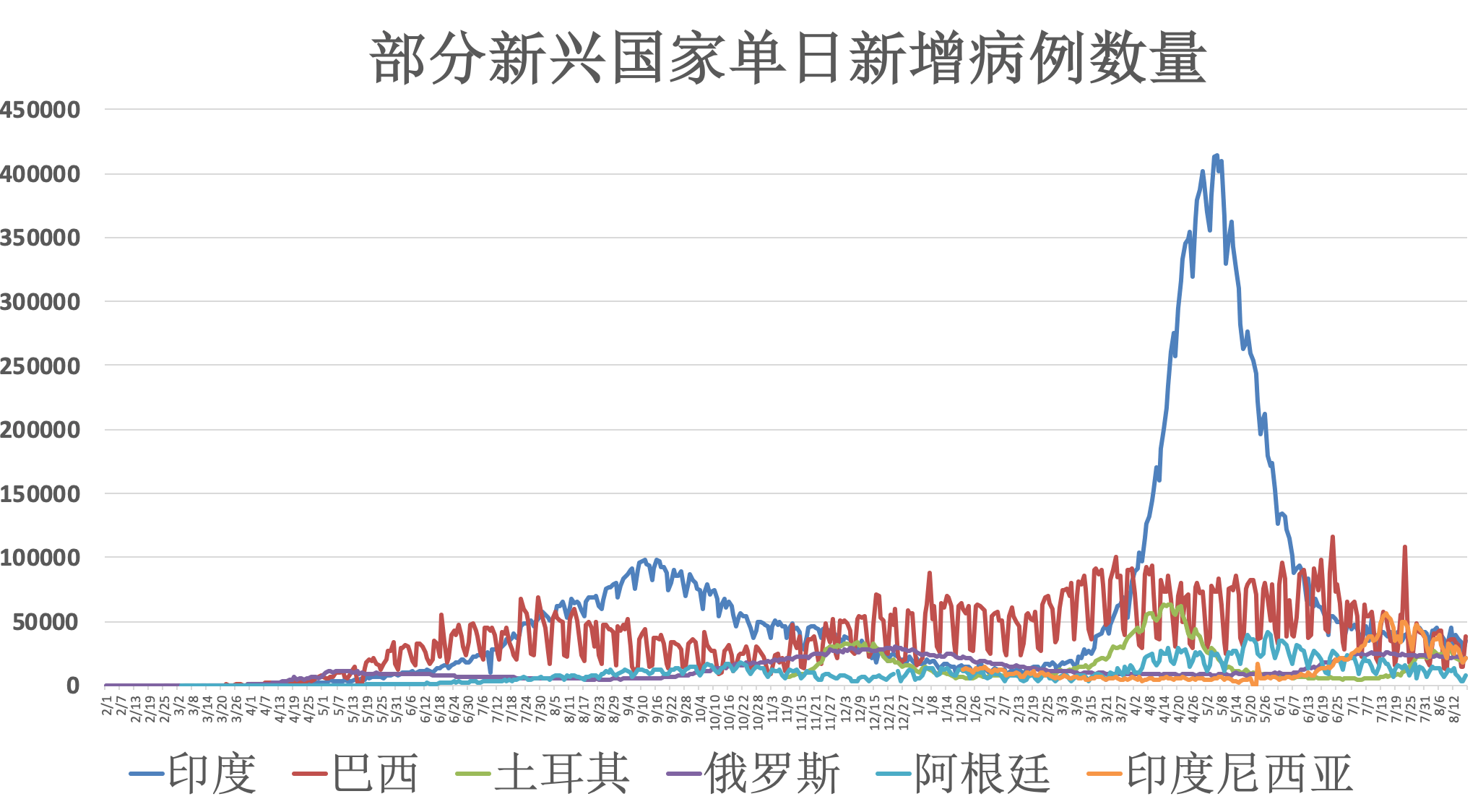 (Source: Finance Association, Wind)
Epidemic dynamics
[National Health Commission: Accumulatively reported 1.887 billion doses of new coronavirus vaccine]
[One place in Songjiang District, Shanghai has been adjusted to a medium-risk area]
Shanghai held a press conference on epidemic prevention and control. It was reported at the meeting that a female nurse at Songjiang Central Hospital in Shanghai tested positive for nucleic acid and was diagnosed as a mild case of the new coronavirus by an expert team. She has been transferred to a designated hospital for treatment. In accordance with the relevant requirements of the State Council's joint prevention and control mechanism, the Shanghai Municipal Office of Prevention and Control has determined that No. 855 (Youlu Apartment), Cangfeng Road, Yongfeng Street, Songjiang District, is listed as a medium-risk area, and other areas in Shanghai are low-risk.
According to Wu Jinglei, director of the Shanghai Municipal Health Commission, according to the current situation, the patient has not left the city in the past two weeks. According to epidemiological investigations, the case has not been found to be related to the epidemic in other parts of the country. The disease control department is stepping up to carry out gene sequencing.
[Shanghai Songjiang District: Implementation of the 14-day health monitoring of residents in the control area will do 4 full-time nucleic acid tests]
At a press conference on the prevention and control of the new crown pneumonia epidemic, Gu Jieyan, deputy district mayor of Songjiang District, introduced that the residents in the controlled areas will be monitored for 14 days, and they are required to report their body temperature and health status to community managers twice a day. Strictly implement the fever day reporting system. Once abnormalities are found, they will be transferred from 120 to designated medical institutions for investigation, diagnosis and treatment. On the day of health monitoring, the second day, the seventh day, and the fourteenth day, a nucleic acid test will be performed for all employees.
[Three places in Yangzhou, Jiangsu are adjusted to medium-risk areas]
Starting today, some areas of Yangzhou City have adjusted their epidemic risk levels: 1. No. 2, Heye East Road, Weiyang Economic Development Zone, Hanjiang District, Yangzhou City, No. 31, Chaoyang Road, Fangxiang Town, Hanjiang District, and Yijia Village, Fangxiang Town, Hanjiang District, adjusted to middle Risk area. 2. Wenhuayuan Community of Wenyang Community, Shuangqiao Street, Hanjiang District, Yangzhou City, Liuhubeiyuan Community of Hongqiao Community of Shuangqiao Street, and Niansier Village Community of Shiqiao Community of Shuangqiao Street were adjusted from a medium-risk area to a low-risk area. The risk level of other regions remains unchanged.
["Wuhan-made" new crown vaccine approved for emergency use by people aged 3-17]
According to the official WeChat account of China Biotech, recently, after a demonstration organized by the relevant departments of the Joint Prevention and Control Mechanism of the State Council, the Wuhan Institute of Biological Products of China National Pharmaceutical Group Corporation has approved the new coronavirus inactivated vaccine for emergency use in people aged 3-17.
[U.S. New Coronary Infection Cases Soaring, Alabama's Medical System Nearly Collapses]
On August 17, local time, Don Williamson, President of the American Alabama Hospital Association, said that with the recent surge in cases of new crown infections, the state's medical system has been overloaded and the number of critically ill patients who need beds Has exceeded the total number of beds in the intensive care unit. Williamson said that as of August 17, local time, 1568 patients need to use intensive care unit beds, while there are only 1557 in the state. Patients in need of intensive care are currently being placed in other areas of the hospital for treatment.
[Rio Brazil requires all civil servants to be vaccinated against the new crown]
The Brazilian city of Rio de Janeiro issued an announcement on August 18, requiring all civil servants to be vaccinated against the new crown, otherwise they will face warnings, suspension or even dismissal. The Rio City Government requires all government departments that resume face-to-face offline office to only allow civil servants who have completed the new crown vaccination to enter the office. In addition, the city government also called on the elderly, pregnant women and the disabled who have not yet been vaccinated to complete the first dose of vaccination within this week.
[Singapore Airlines Group requires all front-line employees to be vaccinated against the new crown]
Singapore Airlines Group said on the 18th local time that the front-line employees of Singapore Airlines and Scoot, which are subsidiaries of Singapore Airlines, must be vaccinated against the new crown. So far, Singapore's three major airlines have all required their employees to be vaccinated against the new crown. Singapore Airlines Group stated that all front-line employees of Singapore Airlines, including pilots, flight attendants, and ground crews, must complete two vaccinations before September 1. Frontline personnel of Scoot must complete the vaccinations before December 1. At present, 99% of Singapore Airlines' front-line personnel have been vaccinated.
Market performance
The three major U.S. stock indexes in trading fluctuated within a narrow range. As of press time, the S&P 500 index fell 0.12%, the Nasdaq index rose 0.04%, and the Dow Jones index fell 0.11%. Major European stock indexes were mixed.
(Source: Yingwei Finance)Return to Sohu to see more
Editor:
Disclaimer: The opinions of this article only represent the author himself. Sohu is an information publishing platform. Sohu only provides information storage space services.
.