One of the most pressing issues of the last decade is the massive felling of trees in Rostov, Novocherkassk, Azov. And even the cultured Taganrog did not escape this disaster. While chips are flying in some places, new trees are accepted in others. And they are imprisoned by activists such as Aleksey Dzyubenko. The correspondent of "AiF-Rostov" met with the hero in his homeland, in Azov.
Magical forest
Our conversation began with an excursion – Alexey showed the places where he and his friends planted trees: the Beryozka and Vostochny squares, in the courtyards of all kindergartens and schools. When the activists got tired of planting themselves, we agreed with the Azov education department, they say, we are holding the action "We give the forest": from public figures – trees, from kindergartens and schools – planting and leaving. Then they distributed oak seedlings around Machine Beach – people planted them on Uzyak, on Strelka and many other places.
"I want it to be green and beautiful here, because this is our land," says Alexey. – I am a local, I grew up on the seaside, in Semibalki. Father is a sailor, mother worked at a fish processing plant. In his youth he got into the "New Azov newspaper". He brought his poems, the editor said: your poems are bad (laughs)… But he took me as a reporter – I kept a criminal chronicle and wrote the news, I also worked as a sound engineer on the radio. Thanks to the position of a journalist, I have developed a base of acquaintances. I have such a character – I easily get along with people, friendship is struck quickly. Then there was a lot of things: I opened shops that sold newspapers, created my own publication, worked for a year, but became disillusioned with a business partner, dropped everything and went to the village for a year to reboot. And there I came across a book by Vladimir Megre from the series "The Ringing Cedars of Russia", then it was in tune with my state. In a way, she woke me up.
Svetlana Lomakina, AiF-Rostov: I was in the settlement of Vladimir Megre's fans. People there left civilization, but they live very hard, many became disillusioned, returned to the cities …
– I'm not saying that I accepted all his ideas unconditionally: something echoed in me, with something I disagree. I am not a fanatic in spirit and I filter everything that I read and see. The main thing that I took from him was that a person should create, make the world around him better. What is the simplest thing we can do? To plant a tree. And my wife and I began to grow seedlings and plant them anywhere. So we lived, I built a family cafe, but here again a new turn – family life did not work out, we parted. And I left for Taganrog. He lived there for 11 years, opened a family and health center and started planting trees already consciously. I love this city very much and try to participate in its life as a volunteer. Last year, on October 17, on the day of tree planting, I brought 100 Norway maples to the landing in Komsomolsky lane.
Alexey Yuryevich Dzyubenko was born on March 23, 1974 in Moscow. Lives in Azov. Activist, social activist. Head of the Azov branch of the Nature Guardians NGO. Participant of the projects "Common Cause", "Giving Forest", etc. For twenty years, together with like-minded people, he planted more than 5 thousand trees.
– But now you live in Azov. Why did you return?
– I returned two years ago, because my parents were elderly, ill, I had to help them. And when he fulfilled his filial duty, when his parents left, he stayed here. Now I work as a taxi driver, take part-time jobs on a mini-tractor and try to make the world a better place – I attract people to landings through social networks.
Four hundred cedars from Samara
– Where and how many of your trees grow?
– I did not keep records, so I can only say approximately. I planted about 170 pines in Semibalki. True, they were taken away and transplanted into their yards, and now, if you see a five-meter pine tree in some yard, then, most likely, this is from our landings (laughs)… But the main thing is that they grow. And 170 pines – that was at the very beginning. Now we have thousands. In the same Taganrog, in the "Topolyok" sanatorium, we cleaned up the territory and collected 3,500 chestnuts there: I poured them out in the yard, covered them with leaves, and they sprouted by spring. And we put them around the city. Now they are already 70 centimeters. We are still planting cedars. Four hundred cedars were sent to us by our colleagues from Samara, the family grows and gives them there specially. Their movement is called "We give the forest".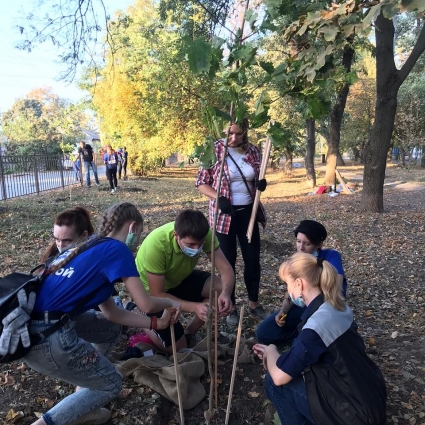 – And they give it directly? Don't make money on it?
– Well, this is a kind of service. We have become so coarse that we do not see how a higher power serves us. And we only do that we harm both nature and ourselves. I'm talking about cutting down trees and about people. Think about it, up to 2000 people die from crimes in a state of alcoholic intoxication per day, this does not mean that he got drunk and killed himself. And he knocked down five people at a pedestrian crossing – the children were walking out of the pool. Killed a neighbor in a fight. Etc. But a person must live differently, and many succeed. More often, those who had a lot of love in childhood. I was lucky – I got it from my mother. And I think that this love should be accumulated and given back to the world.
– I agree, but we just can't count the trees: cedars, pines, oaks …
– Pears and apple trees. We bought them with voluntary contributions, and planted them near the Alexander Forest. This is a federal territory, we turned to the forestry – they plowed the land for us there, cultivated it, but there were three of us, I was worried, could we handle it? I posted a post on social networks with an invitation to plant trees. One hundred people signed up in two days. Rostovites arrived, tough guys on bekhs, families, young people who wanted to actively spend the weekend came. Someone baked pies, someone brought tea, it was a real holiday. Well, and the authorities, looking at such activity, always help us with technology, because the job is necessary.
House, tree, daughter
"You have been planting trees for twenty years. What was the most wonderful landing for you?
– It is hard to say. The bar goes up with each new action, and it seems that this time was the best. Before the conception of our daughter, we went to the holy places, to the mountain of St. Nina, to the dolmens, and there was an uncle, a forester, he planted 900 cedars. Then he inspired me a lot, and now I understand that 900 is very little. So far we have planted 5,000, and I want more and more landings. Because I understand, I am 47 years old, nowadays people live a little, and I have already decided to devote the rest of my life to serving society. Every time after a day of tree planting, I feel that I did something right, and I am filled with happiness. Plus, the circle of acquaintances is expanding, like-minded people appear – there are more and more of them.
– Has your personal life improved?
– If you're talking about a family, then I don't have it. The daughter from her first marriage has already grown up, on June 20 my grandson was born – this is a joy. But now I worry about him – in which country he will grow, and for him I want to make the world around him better. Probably, if I was married, there would be no time left for social activities.
– You are a volunteer of many organizations, you participate in city initiatives. What else worries you?
– Garbage problem. I would like to find investors and build a waste recycling plant. Then I have a dream – to plant 50 thousand trees around the city. I talked about this with the head of the administration. And it can be done. In Azov, 80 thousand people – we will separate children and grandmothers, there will be 30 thousand men. If everyone is committed to planting at least a few trees, the whole area will be green. Past civilizations have left great temples, masterpieces of architecture. And what will we leave? Concrete boxes? In my opinion, this is wrong. It is necessary to break parks and build beautiful buildings, such that they will last forever. Another dream of mine is to plant Siberian fir trees. They smell like citrus and pine needles at the same time. I was in the mountains behind Olginka, and there I saw a destroyed boarding house, where in Soviet times they treated tuberculosis patients. In that area, everything is planted with firs and Pitsunda pines, the air is saturated with healing substances – so I would like to do this with us. My dream is to plant the route from Rostov to Port-Katon on both sides. We were driving along the Krasnodar Territory the other day – everything is green three meters from the road. Both the scent and the shade are a completely different microclimate. Can we do this? We can. We have been very guilty before nature, we need to somehow correct our mistakes. Once I wrote such a poem: "I see a garden: simple, beautiful, serene. In it you and I, and a daughter, and a son, and faith, and love with hope. And the holy spirit sparkles among the branches, and the subtlest striving for the creator. And extraterrestrial love here will be born for many of our generations. So that with gratitude it was kept forever, because there are many ways in the universe. One of them is the only and milky one that we create for our children … "
.