Janis Moser celebrates his goal against Minnesota.Bild: keystone
28.11.2022, 07:4228.11.2022, 14:24
Minnesota – Arizona 4:3
Janis Moser, 1 goal, 2 shots, 21:06 TOI
The Arizona Coyotes lost 4-3 away at the Minnesota Wild. The Biel defender Janis Moser scores for the second time in a row, for the third time this season.
Moser brought back some hope for Arizona with the goal about two minutes before the end. However, the Coyotes could not complete the comeback.
Chicago – Winnipeg 2:7
Philipp Kurashev, 2 assists, 4 shots, 16:06 TOI
The Chicago Blackhawks go down at home to the Winnipeg Jets and lose 7-2. From a Swiss point of view, one can at least be happy about two assists from Philipp Kurashev. The Bernese gave the last pass when Taylor Raddysh made it 1-2 and also had the stick in play when Jujhar Khaira made it 2-4.
San Jose – Vancouver 3:4nV
Timo Meier, 4 shots, 3 checks, 19:38 TOI
It also marks a home defeat for Timo Meier and the San Jose Sharks. The Appenzeller is quite active, shoots often and deals a total of three checks. But for once he remains without a scorer point. In overtime, rookie Andrei Kuzmenko decides the game for Vancouver.
Los Angeles – Ottawa 2:3nV
Kevin Fiala, 7 shots, 1 penalty, 18:56 TOI
Kevin Fiala also leaves the ice as a loser that night. He lost with the Los Angeles Kings to the Ottawa Senators 2-3 after overtime. Claude Giroux scored the decisive goal after just 20 seconds in overtime. Despite seven shots, Fiala remains without a scorer point.
Swiss scorer list: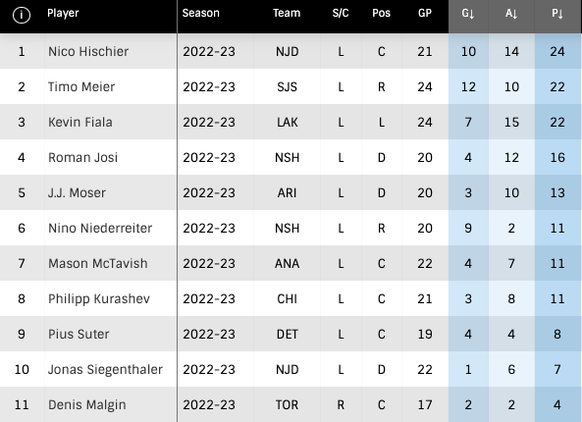 Bild: screenshot nhl.com
That's how much the Swiss ice hockey stars earn in the NHL
NHL appearances by Swiss ice hockey players
Video: watson
This might also interest you: