Passionate since his earliest childhood, Daniel Turquetil had abandoned breeding for some time. Resuming activity in 2019, the second product of breeding is expected in the coming weeks. But the 2022 generation is already in Daniel's head …
Still available for purchase, Komgall, an AQPS from an upside down cross
The year 2020 will have marked the renewal of The Breeding of Daniel Turquetil seeing the birth of a product of Voiladenuo, conceived with a thoroughbred mother, thus becoming an AQPS "upside down". This crossing has already borne fruit in the past. We remember Moskitos d'Isigny, double winner of the Romati, Listed, also winner of the Listed-races Prix Journaliste and Prix de la Gascogne, under the training of the manchese Patrice Quinton, or, Jo Bamboo, placed in Montgomery, Gr. 3. Another performer trained in La Manche, at Philippe Chemin, Luckyful of the Meal (Grand Cross of Vichy and Compiègne) is one of the good elements that such a crossing can claim to have given. Baptized Komgall, meaning "Brave Warrior" in the language ofAlan Stivell, in the land of Chouchenn and Kouign Amann, this foal, still available for sale, awaits you. Unfortunately his mother Cat Princess, injuring himself this winter, could not be saved.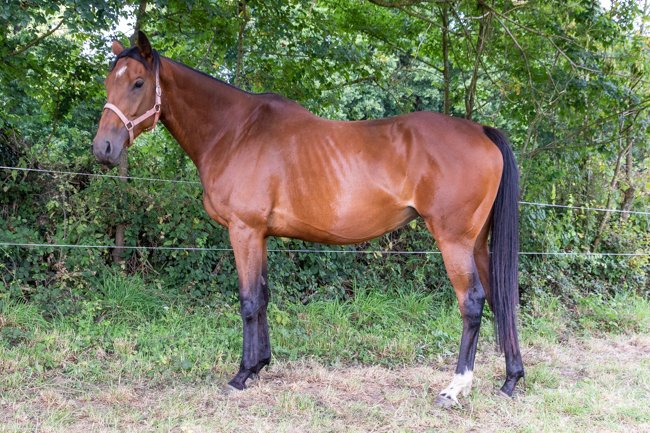 Vonny d'Hérodière, now the only broodmare of the breeding
Vonny d'Hérodière, what Daniel had bought at the Poirier family so as not to leave Cat Princess alone waiting for a product from Castle de Berlais. For this new season, Vonny d'Hérodière will benefit from the projection that Daniel won during the traditional end-of-year draw, organized by the AQPS association, namely, Racinger. We no longer present the latter, father of Farouk d'Alène, potential start during the Cheltenham Festival, if permission to run is given back to Gordon Elliott, under the impact of a layoff following the affair of his photo unveiled on social networks, this weekend. Racinger is also the father of the venerable Celtiae, the good old servant of Laurent Much, still 3rd of the 1st quinté of the year, at Auteuil, disputed this Monday, or even, of Rapper of Mottes, having found his favorite sport with Philippe Chemin and Christophe Herpin, on the cross (Grand Cross de Ploërmel). Vonny d'Hérodière will return, for the service, almost on her land, she who was born in Maine-et-Loire, not far from the Haras du Grand Chesnaie, place of station Racinger, after 3 seasons spent at Haras de Vains.
And Komgall you are interested, do not hesitate to contact Daniel Turquetil, whose contact details are available by following this link.
And as they say, Kenavo! Ar wec'h all! (Good bye, see you soon !)
.