Details

Published: Saturday, April 24, 2021 07:49

Viewed: 18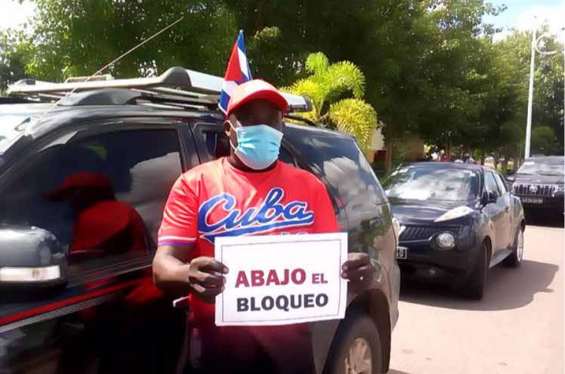 Havana, Apr 24.- Friends of Cuba in Turkey were among the first to take part in the World Caravan against the blockade, convened for this weekend in all continents, as a continuation of a similar mega-event held just over a month in more than 60 countries.
Due to movement limitations established by the COVID-19 pandemic in Turkish cities, the activities were organized on weekdays and solidarity groups carried out bicycle tours in Istanbul and Izmir and an act in the Anitpark park, in the capital Ankara, says a note from the Cuban Institute of Friendship with the Peoples -ICAP.
This last activity was attended by the Cuban ambassador, Luis Alberto Amorós, who thanked the solidarity demonstrations, in which the participants carried flags of the two countries and banners with slogans of support for our country.
Meanwhile, for this Saturday and Sunday, together with campaigns on social networks, activist groups in more than 20 cities in the United States and also in localities in Canada and countries in Latin America, Europe, Asia and Africa, are preparing details organization of the protests, framed in the project "Puentes de Amor".
The most recent reports indicate that Cuban residents in South Africa and friends of Cuba will participate in a caravan in Pretoria while in Cape Verde an act will be held to coincide with the first anniversary of the arrival of the Cuban medical brigade Henry Reeve to that African nation.
In Nigeria, Namibia, Gambia, Benin, Burkina Faso, Tunisia and Liberia the details of the activities are adjusted, as in Angola, Ethiopia and Egypt.
From Europe it was learned that in Germany public actions will be carried out as part of the UnBlockCuba campaign in front of the United States embassy in Berlin along with initiatives in Frankfurt, Dusseldorf, Bonn, Munich, Bremen, Bielfield, Hamburg, Schwerte, Chemnitz, Dresden, Leipzig and Sttutgart.
In Italy, the protesters will denounce the blockade in Rome, Milan, Venice, Naples, Ancona, Bari and Sicily while activists are enlisted in London, Birmingham, Manchester and Glasgow, in the United Kingdom, as well as in Belgium, Cyprus, Portugal, France and the Netherlands, among other nations.
The Friendship Associations with Cuba in the Australian cities of Brisbane, Canberra, Perth and Sydney, will also join the event according to the possibilities, taking into account the movement limitations imposed by the pandemic.
At the same time, messages of support signed by directors of Friendship Associations continue to reach ICAP, such as those from the Greek regions of Athens, Thessaloniki, Cephalonia, Ithaca, as well as from the Diethnes Vima publishing house.
Likewise, they conveyed their support in the context of the World Caravan against the blockade, the Finland-Cuba Friendship Association and the League of Palestinian graduates on the Island, among other groups. (RHC)
.