The particular 90s and Argentina ran from 1 to 1 (parenthesis for young people: from 1991 to 2001, in the country there was a convertibility law whereby one dollar was equal to one peso: 10 years in an unreal world), the National Basketball League took advantage of the cheap dollar and allowed quality, expensive signings. It was another world too, with fewer countries competing for those same players. Argentina was in one of the main lots.
Discards were taken from first teams in Europe and even from the NBA. Thus, Olimpia de Venado Tuerto, in October 1994, with Julio Lamas as coach, was looking for an intern of hierarchy and experience to face the Pan-American Club Championship. He had a real team: Pichi Campana, Montecchia, Racca, Victoriano, Uranga, Darrás, Tourn and, as foreigners, Orlando Lighfoot and George Montgomery, who had quickly replaced the two who started the season, Kenny Battle and Alex Holcombe (6 and 4 matches, respectively).
Lamas needed to go to Córdoba to that Pan American with something more reliable. Lightfoot was young, fresh out of college (forward, 2.01, 20 years old), while Montgomery came from several years in Europe, especially from France. He had some veneer, although both he and Lightfoot ended up not delivering what was expected of them, especially Montgomery, who was cut short after the Pan American, which Olimpia lost to Franca in the final by just one point, 98-97. Lightfoot lasted a little longer.
Number 15 is George Montgomery (Pablo Cabial Basketball Solo Archive Photo)
Montgomery left without pain or glory, as was his professional career somehow. Perhaps his greatest exposure had been his affair with the excellent basketball player Pamela McGee, Olympic gold with the United States in 1984, twice consecutive NCAA champion with Southern California and with two years of experience in the WNBA, which the veteran took. .
McGee with his mother Pamela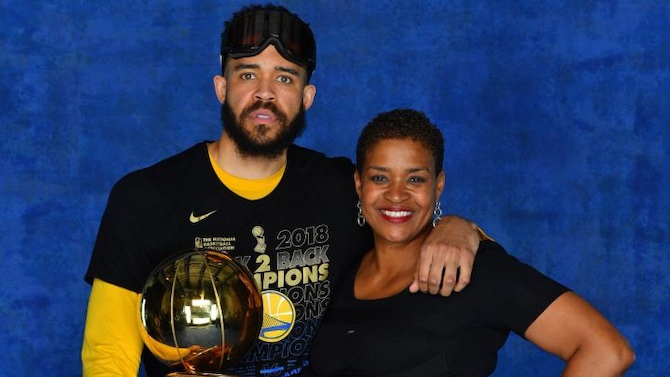 Pamela's son is JaVale, a three-time NBA champion and recent teammate of Facu Campazzo in Denver, although now transferred to Phoenix, and his father is George Montgomery, that sturdy pivot who played at Olimpia, later separated from Pamela. In fact, the other daughter, Imani McGee-Stafford, who is no longer in the WNBA, is from a different father.
McGee with Montgomery at Golden State Title Celebration
The curiosity is that JaVale bears his mother's surname, and that he has also been crowned Olympic champion in Tokyo, where the coach of Japan was Lamas himself, his father's coach in that 1994/95 Olympia. The world is a handkerchief.
.