Wednesday, June 1, 2022 at 4:00 p.m. – Réjean Ouimet monitors certain phenomena that have the power to change the look of summer in Quebec. To analyse.
---
In short :
Several elements are part of the equation to influence the look of summer;
Third consecutive year under the influence of La Nina;
Large area under the influence of a heat dome in the United States;
Quebec could experience a very wet summer.
---
Several influencers
Several phenomena influence the summer season in Quebec. In 2022, we must consider the following elements: the ridge in Alaska, La Nina, the Bermuda High, the atmospheric blockage in Greenland and the polar vortex. The action or increased presence of these influencers can change the look of summer.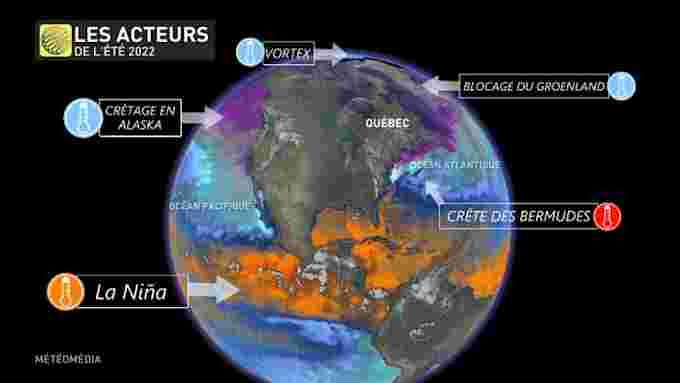 Third La Nina summer: bad news
During the last two summers, the waters of the equatorial Pacific have been colder. The La Nina phenomenon dominated and it will still be present for a third year in a row. According to Réjean Ouimet, meteorologist, the past indicates that this situation does not bode well for Quebec. However, the data collected
"Normally, during the spring, the temperature of the waters of the equatorial Pacific warms up and the Nina weakens, explains Réjean Ouimet. This is not the case this year. A rather rare phenomenon that we are about to experience : a third consecutive summer with La Nina. This happened only four times, in 2000, 1985, 1975 and 1956. Only two of the twelve summer months (June July and August) of these years were warmer than normal in Montreal."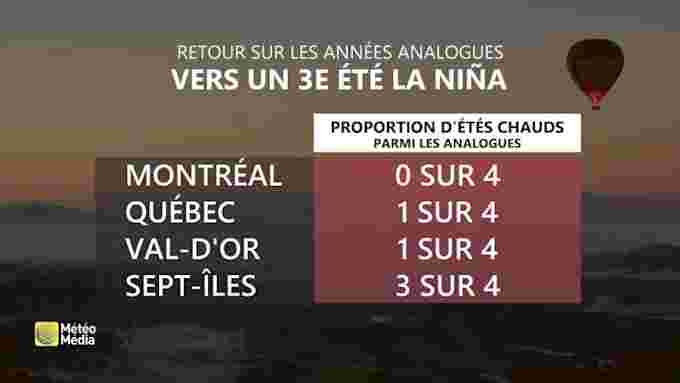 Glimmer of hope
While cold water dominates the Pacific at the equator, a warmer zone would favor a supply of heat to Quebec in summer. Indeed, south of Alaska, a positive ocean temperature anomaly could prove beneficial for the Belle Province. In fact, observing the past, similar situations have given rise to mostly hot summers here.
"Anomalies in the Pacific waters off the west coast could cloud the map this summer, says Réjean Ouimet. The water is abnormally warm offshore and cold further east. This is the oscillation pacific in negative mode. In years comparable to this year, such a phenomenon favored the heat during the summer in Quebec."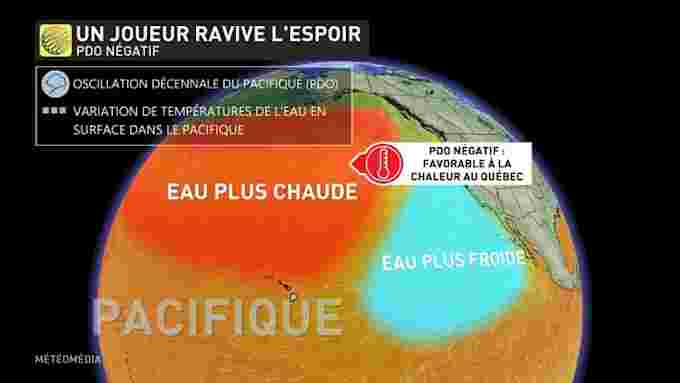 Dry areas, wet areas
Continental drought can play a key role in dictating the look of summer in Quebec. When a large area is dominated by an anticyclone that brings warm, dry weather, disturbances tend to form and circulate around this heat dome. During the years that were marked by such an atmospheric configuration, the summer season was particularly wet in Quebec.
"What takes on all its importance in summer is the distribution of dry and wet expanses on the continent. The dry regions will be under the influence of a ridge, therefore of the sun and of the dry weather. What is called a positive feedback. In this case, this ridge is over the southwestern United States."
With the collaboration of Réjean Ouimet, meteorologist.
---
SEE ALSO: Welcome to the Heart of a Tornado