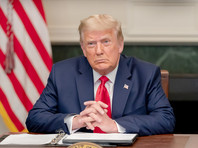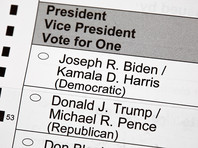 ALL PHOTOS


Donald Trump again called on his fellow party members in the Senate of the Congress to fight to challenge the results of the presidential elections held in November, reports TASS.
"It is time for Republican senators to step forward and fight for the presidency, as the Democrats would do if they really won. The evidence is undeniable," the American leader wrote on Twitter on Saturday, listing violations he believes were took place during the elections and during the counting of votes. "The numbers are much larger than are necessary to win in some hesitant states," the president continued.
As evidence, he attributed the massive stuffing of ballots received by mail in vacillating states, the appearance of false ballots in the ballot boxes, double voting, "voting" of dead people, false signatures, voting illegal migrants, removal of Republican observers.
Trump blamed the courts and the FBI for "failing to do their job," saying that "the United States electoral system looks like a third world country."
The President also noted that "freedom of the press has long disappeared, this is fake news." "But when this is over, this time frame will be just another ugly chapter in our country's history. We will win !!!" – Trump emphasized.
The New York Times reported on December 13 that a group of Republican lawmakers led by Congressman Morris Brooks (from Alabama) are going to make a final attempt in Congress on January 6 to challenge the election results. According to the newspaper, Brooks intends to oppose the approval of electoral votes from the states of Arizona, Pennsylvania, Nevada, Georgia and Wisconsin. In order for the congressman's protest to be accepted for consideration, he needs to enlist the support of at least one of the members of the Senate.
Brooks, in particular, can support the elected Republican Senator (from Alabama) Tommy Taberville, who previously admitted such an opportunity. However, The Hill newspaper on Friday, quoting Senator John Thune (Republican from South Dakota), reported that Republican leaders in the Upper House oppose Taberville's challenge of the vote, considering such a move useless and "politically destructive."
Experts note that the House of Representatives, where the Democrats hold the majority, will vote against any initiative that calls into question Biden's victory.
However, a number of Republican senators, including Senate Majority Leader Mitch McConnell, spoke out against challenging the election results. The US Congress at a joint meeting of both chambers on January 6 is to approve the results of the electoral college vote, officially confirming Biden's victory.