(Motorsport-Total.com) – After a year off, the IndyCar series returns to the Iowa Speedway this weekend. And as was the case in 2020, the comeback is a two-race double-header. More than 250 laps will be driven on Saturday and more than 300 laps on Sunday.
The Iowa Speedway is back on the IndyCar calendar after a year off
Zoom
The short, D-shaped oval with a lap length of less than a mile is located in Newton, about 50 kilometers east of Des Moines, the state capital of Iowa. In 2007 – the last year before the reunification of US single-seater racing – the Iowa Speedway was driven for the first time, at that time with the cars of the Indy Racing League (IRL).
The reunited IndyCar series has hosted the Iowa Speedway annually since 2008, but not in 2021. The short oval has returned to the racing calendar for the current season. This pleases not least Josef Newgarden, who won three of the last six Iowa races. (IndyCar standings 2022)
Below is an overview of all the important information about the IndyCar 2022 Iowa Double:
Iowa Speedway data
Ort: Newton (Iowa, USA)
Route type: Oval
track length: 0.894 miles
Curve bank (banking): 12 to 14 degrees
On the IndyCar calendar since: 2007 (with interruption)
IndyCar track record: Scott Dixon in 17.279 seconds (186.256 mph) in the 2014 season * Two-lap average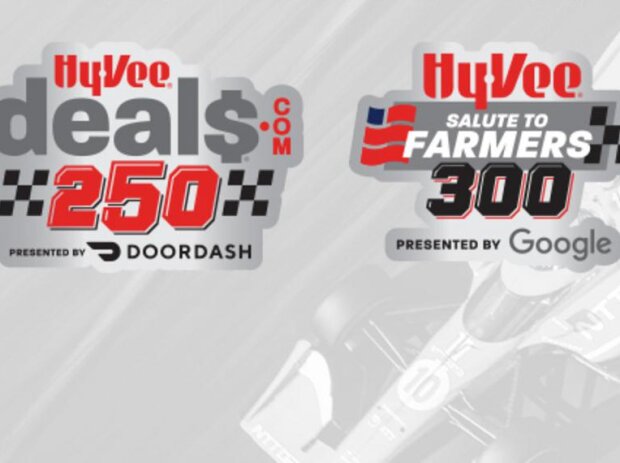 © IndyCar Series
Two races in two days: 250 laps on Saturday, 300 laps on Sunday Zoom
Schedule IndyCar 2022 Iowa Doubles (in local time; difference Central Europe: 7 hours)
Friday 22 July
4:30 p.m.: Free practice (90 minutes)
Saturday 23rd July
10:30 a.m.: Qualifying (two laps; individual time trial)
4:00pm: Race 1 – Hy-VeeDeals.com 250 (250 laps; Start: 4:06pm)
Sunday 24th July
3:00pm: Race 2 – Hy-Vee Salute to Farmers 300 (300 laps; Start: 3:30pm)
TV Times and Live Stream IndyCar 2022 Iowa Doubles (in LIME)
Friday 22 July
11:30 p.m. CEST: Free practice session on indycar.com
Saturday 23rd July
17:30 CEST: Qualifying on indycar.com
23:00 CEST: Race 1 on Sky Sport F1 (Race start: 23:06 CEST)
Sunday 24th July
22:00 CEST: Race 2 on Sky Sport F1 (Race start: 22:30 CEST)
In the DACH region (Germany, Austria, Switzerland), the pay-TV broadcaster Sky will broadcast all races of the 2022 IndyCar season live and in full.
Sky offers two ways to watch IndyCar live. Firstly, about the classic "Sky Q"-Abo, with receiver for reception via satellite, cable or the Internet. On the other hand within the framework of "WOW"which can be booked flexibly as a pure streaming service without a receiver.
In the USA, the races of the 2022 IndyCar season will be broadcast live and in full by the TV channel NBC. It is broadcast either live on the main channel or on the USA Network special interest channel.
As an alternative or in addition to the NBC TV broadcasts in the USA, all sessions (practices, qualifying sessions, races) of the 2022 IndyCar season will be streamed live PeacockNBC's paid streaming portal.
Outside the US there is one free live stream of training sessions and qualifying sessions, on the official IndyCar website. A Live-Timing for all sessions (practices, qualifying sessions, races) of the 2022 IndyCar season is also available free of charge on the official IndyCar website.
Entry list IndyCar 2022 Iowa double (26 cars)
The entry list for the Iowa doubles is 26 cars, but only 25 full-time cars. The #11 Foyt-Chevrolet, which was already absent in Toronto due to budget problems, is not entered this time either. Tatiana Calderon is not affected this time, but JR Hildebrand, whose two planned races this weekend are cancelled.
On the other hand, as with all other oval races in 2022, the third Carpenter-Chevrolet (start number 33) has been registered. This is where the team owner sits Ed Carpenter im Cockpit.
#2 – Penske-Chevrolet – Josef Newgarden (USA) – 3 wins of the season
#3 – Penske-Chevrolet – Scott McLaughlin (Neuseeland) – 2 wins of the season
#4 – Foyt-Chevrolet – Dalton Kellett (Canada)
#5 – McLaren-Chevrolet – Patricio O'Ward (Mexico) – 1 win of the season
#06 – Shank-Honda – Helio Castroneves (Brasilien)
#7 – McLaren Chevrolet – Felix Rosenqvist (Sweden)
#8 – Ganassi Honda – Marcus Ericsson (Sweden) – 1 win of the season
#9 – Ganassi-Honda – Scott Dixon (New Zealand) – 1 win of the season
#10 – Ganassi-Honda – Alex Palou (Spanish)
#12 – Penske-Chevrolet – Will Power (Australien) – 1 win of the season
#14 – Foyt-Chevrolet – Kyle Kirkwood (USA) *
#15 – Rahal-Honda – Graham Rahal (USA)
#18 – Coyne-Honda – David Malukas (USA) *
#20 – Carpenter-Chevrolet – Conor Daly (USA)
#21 – Carpenter-Chevrolet – Rinus VeeKay (Netherlands)
# 26 – Andretti-Honda – Colton Herta (USA) – 1 win of the season
# 27 – Andretti-Honda – Alexander Rossi (USA)
#28 – Andretti Honda – Romain Grosjean (France)
# 29 – Andretti-Honda – Devlin DeFrancesco (Kanada) *
#30 – Rahal-Honda – Christian Lundgaard (Denmark) *
#33 – Carpenter-Chevrolet – Ed Carpenter (USA)
#45 – Rahal Honda – Jack Harvey (Great Britain)
#48 – Ganassi-Honda – Jimmie Johnson (USA)
# 51 –Coyne-Honda –Takuma Sato (Japan)
#60 – Shank Honda – Simon Pagenaud (France)
#77 – Juncos-Chevrolet – Callum Ilott (UK) *
* Rookie
---
IndyCar 2020: Newton 1
Highlights from Race 5 of 14 of the 2020 IndyCar Series, Race 1 at the Iowa IndyCar 250s at Iowa Speedway in Newton! More formula racing videos
History: All IndyCar race winners in Newton
2021: –
2020: Simon Pagenaud / Josef Newgarden
2019: Josef Newgarden
2018: James Hinchcliffe
2017: Helio Castroneves
2016: Josef Newgarden
2015: Ryan Hunter-Reay
2014: Ryan Hunter-Reay
2013: James Hinchcliffe
2012: Ryan Hunter-Reay
2011: Marco Andretti
2010: Tony Kanaan
2009: Dario Franchitti
2008: Dan Wholdon
2007 (IRL): Dario Franchi
---
IndyCar 2020: Newton 2
Highlights from Race 6 of 14 of the 2020 IndyCar Series, Race 2 at the Iowa IndyCar 250s at Iowa Speedway in Newton! More formula racing videos