This weekend in Kiev you can see and hear so many interesting things that staying at home will be tantamount to a great loss for your own emotional and spiritual state. We offer you to familiarize yourself with the most interesting events of those that are planned in the capital on October 9-10. Resist the temptation to lie on the couch watching the TV. Step out of your deceiving comfort zone and head out to performances!
Only girls in jazz, or Sugar
The staging of a comedy-criminal-romantic story about love, friendship, creativity, money, lust for life, talented people and willpower is extremely relevant for Ukrainian society.
Events unfold in the United States of the 30s of the twentieth century. During the Great Depression, economic crises, total unemployment, the prosperity of corruption and banditry, cultural figures are forced to earn wherever they have to. The themes raised in the play resemble the pictures of modern life in Ukraine. Aren't the words of the characters of the play relevant: "We owe the butcher, we owe the owner"; "Light, gas, heat – everything is off"; "How to be hungry, knows the one who serves art"?
When? October 9, at 19.00.
Where? Kiev National Academic Operetta Theater.
Liquidation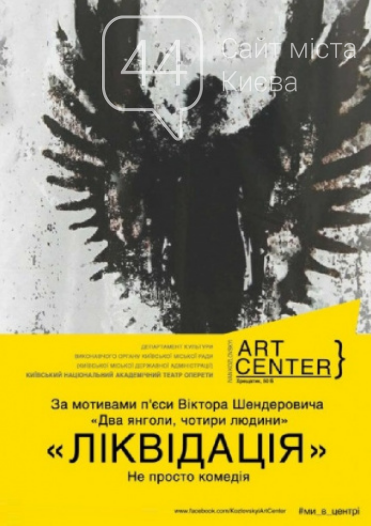 There are two eternal themes in art – death and love. In the play "Liquidation", based on the satirical and wise play "Two Angels, Four People" by Viktor Shenderovich, both of these themes are raised.
Imagine that one evening an official from the heavenly office, an angel with a briefcase, comes to you and informs you that your earthly journey is complete … think about the meaning of life.
When? October 9, at 19.00.
Where? MKTs them. I. Kozlovsky.
Masculine, singular, or Do not believe your eyes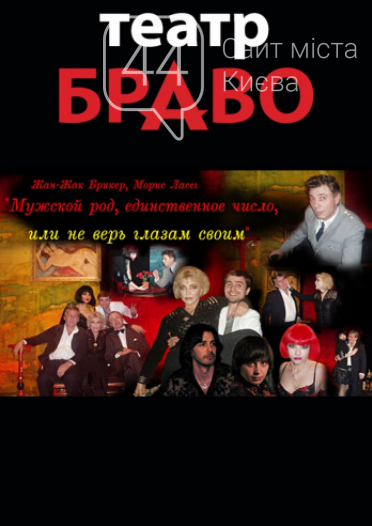 During this performance, you will plunge into the insane world of ordinary people and transsexuals. Do not be alarmed! They all want one thing – to love and be loved. Trust me! You will laugh heartily all two actions.
When? October 9, at 19.00.
Where? Kiev Drama Theater Bravo.
Leaning tower of pisa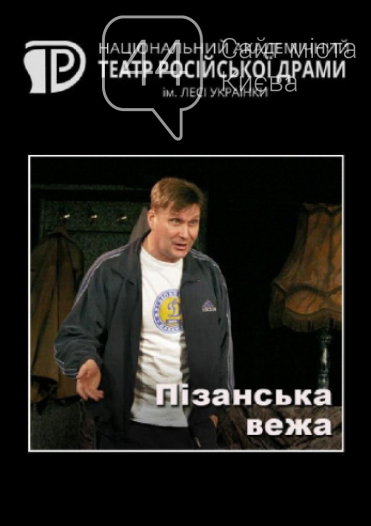 The story of how one day a completely normal woman, who, in general, was not deprived of joys and not burdened with complexes, almost left her husband. The performance is permeated with the attributes of everyday life familiar to each of us.
A dacha, dinner, half a liter, worn-out slippers – all this is masterfully played by the actors, causing the audience to laugh through tears. But, as it turned out, true love cannot be imposed, given to the load, like a stale commodity, forcibly inoculated or, in the end, even brought up in oneself. It is like a talent, a gift from God: either it exists or it is completely absent.
When? October 10, at 17.00.
Where? Theater them. Lesya Ukrainka.
A virgin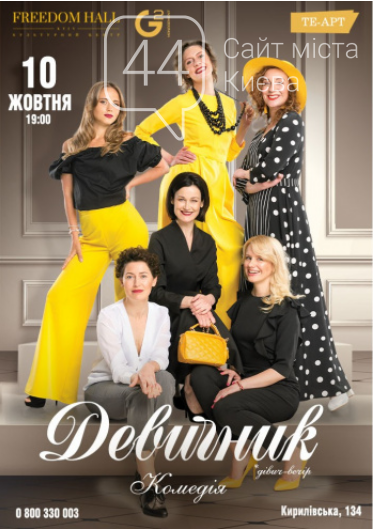 Six beautiful unmarried girlfriends, one of whom is pregnant, gather to talk about men. And they will also talk about the first pregnancy in their company and about what women lack so much.
The play is based on the novel Lovely Bodies by Laura Cunningham and is shown in Russian.
When? October 10, at 19.00.
Where? Freedom Hall.
Methods for raising little assholes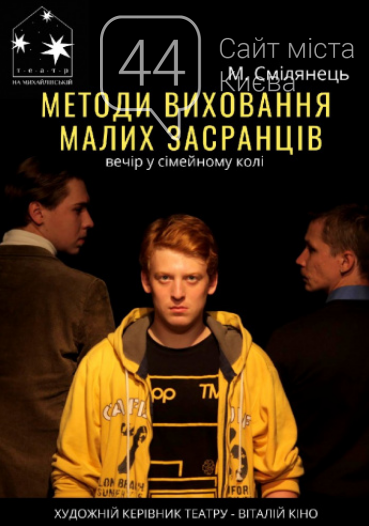 How to live when nothing binds you with your family except the desire to sell a common house as soon as possible? Who is to blame that the dog understands you better than his brother? What to do when the concept of "kinship" sounds somehow "stressful"? Why is this so? Because of poor parenting? Difficult life circumstances?
The story of three brothers who almost lost touch with each other. And all that still unites them is the parental home and the old dog Kubik. But there is a knock at the door and She enters, the only one who can reconcile them.
When? October 10, at 19.00.
Where? Theater on Mikhailovskaya.
Read also: On October 14, a march will take place in Kiev in honor of the Day of Defenders of Ukraine.
.